Charlotte Gutter Installation
Poor gutter installation can result in leaks or improper drainage that exposes your home's foundation and exterior to water damage. At Vision Roofing, our gutter installation professionals will evaluate your home, the land it's situated on, and the best drainage situation before installing your gutters to ensure they're as effective as possible.
We then install gutters that collect water and funneled away from your home. Our craftsmen use commercial-grade construction equipment, including durable gutters and hooks that blend in with your home, enhancing its aesthetic.
After installation, we can also provide gutter guards that act as a protection system, keeping debris out of your gutters and ensuring that water is effectively directed away from your home. Since gutter guards keep your gutters free of debris, they also reduce the frequency at which you need to clean out your gutters, saving you time on maintenance.
Seamless Gutters and Gutter Guards
Seamless Gutters
Seamless gutters are created as a single piece that's fitted to your home. In most cases, seamless gutters are made at your property with professional equipment that rolls the material and forms it into a gutter that's uniquely fitted to your home. Seamless gutters are installed immediately after they're made, reducing the disruption to your schedule.
Gutter Guards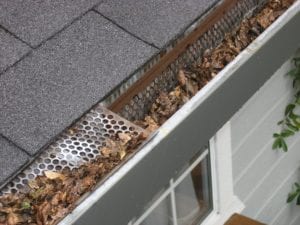 Gutter guards are pieces of material that attach to your gutters and prevent unwanted materials from getting inside and restricting water flow. Gutter guards help make your gutters more efficient while reducing your maintenance tasks, so you need to clean your gutters less frequently.
The most common material that builds up in gutters and is controlled by gutter guards includes leaves, sticks, and trash, all of which can stop water from flowing smoothly through your gutters and away from your house. It can even cause gutters to overflow, with water building up and potentially damaging your home. Without gutter guards, you need to regularly clean your gutters, removing any built-up materials to ensure your gutters function properly.
Vision Roofing installs gutter guards around residential properties, evaluating and reducing any gaps so the guards let in water, but not debris. With proper gutter guard installation, your gutters will function more effectively and you'll have less maintenance and cleaning to do.
Professional Gutter Evaluation
Not sure if you need seamless gutters or sectional gutters? On the fence about gutter guards? Our professionals will inspect your home to determine the best options for you. We'll evaluate the gutters you have now and make recommendations on how you can best repair them, install new gutters, or leverage gutter guards to keep water away from your home – without the usual maintenance.
Schedule Your Free 30-Minute Inspection
Charlotte, NC Gutter Services
Vision Roofing is dedicated to the greater Charlotte area. We provide specialty gutter services that accommodate the amount of rain we regularly receive in North Carolina, as well as seasonal changes and the challenges of our dense tree canopy.
Contact us to learn more about our gutter installation services or schedule an appointment.